Clockwork Wings
Clockwork Wings by Alex
271 cards in Multiverse
102 commons, 72 uncommons,
57 rares, 15 mythics, 20 basics, 5 tokens
31 white, 27 blue, 34 black, 28 red,
29 green, 90 artifact, 32 land
749 comments total
Inventors and artificers, zeppelins and flying machines, dashing pilots and sky pirates, city police and back-alley criminals, and implausible machines cobbled together from whatever parts come to hand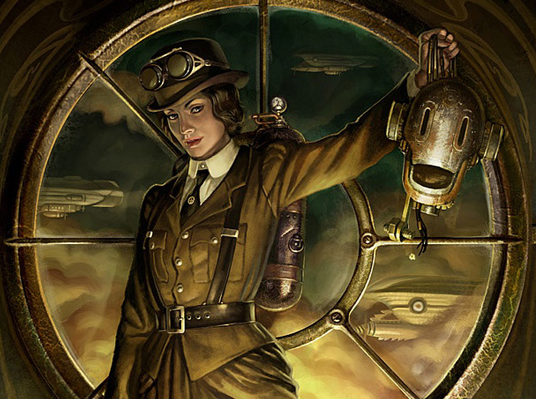 R
Creature – Human Policeman
Creatures you control have Collaborate. (Whenever a creature you control attacks, another target attacking creature gets +1/+1 until end of turn.)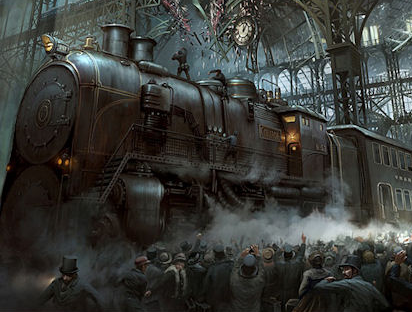 C
Artifact Creature – Locomotive
[Steam]: Steamhead Locomotive gains trample until end of turn.
Flying, first strike
Other creatures you control can't attack.
Flying
Whenever Captivating Plunderer deals combat damage to a player, you may gain control of target permanent that player controls.
She insists each defeated ship surrender its strongest crewman to her.
U
Artifact Creature – Construct
[Chemical] or
: Rodent-Run Automaton gets +2/+0 until end of turn. Add [Torque] to your power pool.
Equip
(2)
[Electrical] or
: The next 1 damage that would be dealt to equipped creature is dealt to target creature instead. Add [Radiation] to your power pool.
Connect
(
: Attach to target artifact you control. Connect only as a sorcery.)
Connected artifact has "
,
: This artifact deals 1 damage to target creature or player."
It's startling how many devices can be adapted to the purpose of harming people.
+1
: Put a harness counter on target creature. That creature gains flying.
-1
: Draw a card for each creature which damaged an opponent this turn.
-6
: Gain control of X target permanents, where X is the number of cards in your hand as you activate this ability.
Illus. vladislausdantes on DA
Cardset comments (37) | Add a comment on this cardset
The set creator would like to draw your attention to these comments:
Recently updated cards: (all recent activity)
Equip
[Torque] or
: Equipped creature gains flying and +1/+0 until end of turn.
Backstab – When Swiftstab Streetpad blocks or becomes blocked by a creature, Swiftstab Streetpad deals 1 damage to that creature.
Target creature gets +1/+2 until end of turn. You may sacrifice an artifact. If you do, that creature gains flying until end of turn.
Destroy target nonartifact creature. You gain 3 life.
"There are a great many malefactions one can construct from the skull of a noble person. A skull like this? Not so much."
See other cardsets